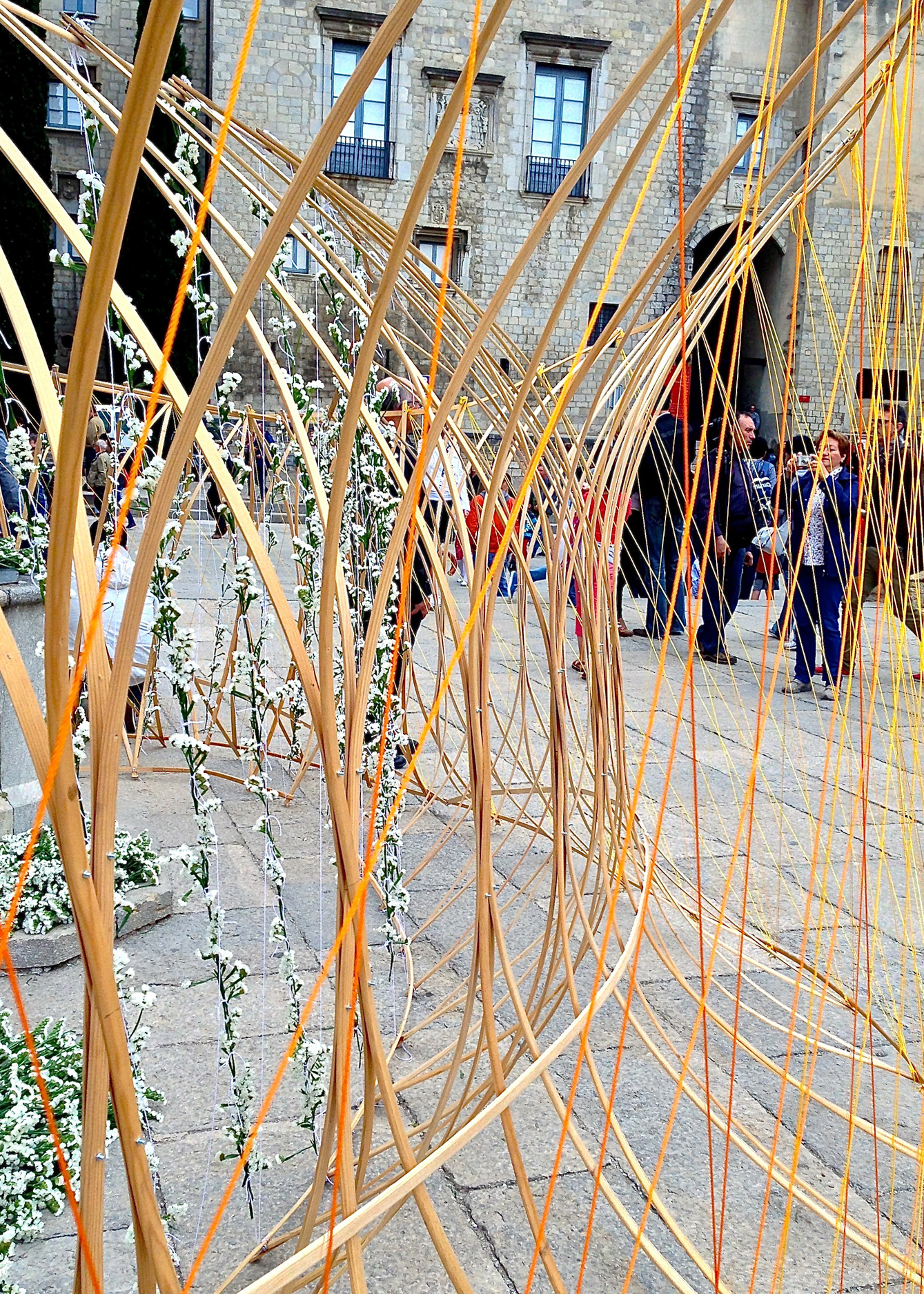 PABELLON DE LA CORONA
---
LOCATION // Plaça Catedral. Girona, Spain.

---
CLIENT // City of Girona + Temps de Flors Festival

---
YEAR // 2013

---
STATUS // Completed

---
PROGRAM // Public Art

---
FUNCTION // Ephemeral Intervention

---
An undulating circular structure parasites a monument to a long abandoned source of water in Girona. We propose to recrudesce this source of life with 3000 Limonium flowers pouring out and flowing within the protected space of the surrounding structure, creating a place of relaxation, contemplation and conversation during the festival. Built with 300 tensile modules of timber molding, the repetitive structure is bent into shape with a gradient of colored string in the colors of the surrounding Catalan countryside. Limonium flowers line the inside face to lure visitors into to experience this inner sanctum.

Temps de Flors is an annual floral festival in Girona, Spain celebrating art, design, the city and the new spring season. Throughout the historical Barri Vell neighbourhood, installations fill the streets, alleyways, plazas, monuments and galleries for a seven day celebration.

Each year we are honoured to be invited to the Temps de Flors festival. It is a unique city event which transforms private and public courtyards, streets and squares into ephemeral installations. Together with the city, we select challenging urban sites to explore dynamic interpretations between experimental timber systems and medieval forms. We use the flower as the determinable scale unit to explore modular constructions that adapt on-site.


COLLABORATORS
James Brazil | Katya Chikaher | Christopher Parsons | Nicholas Waissbluth