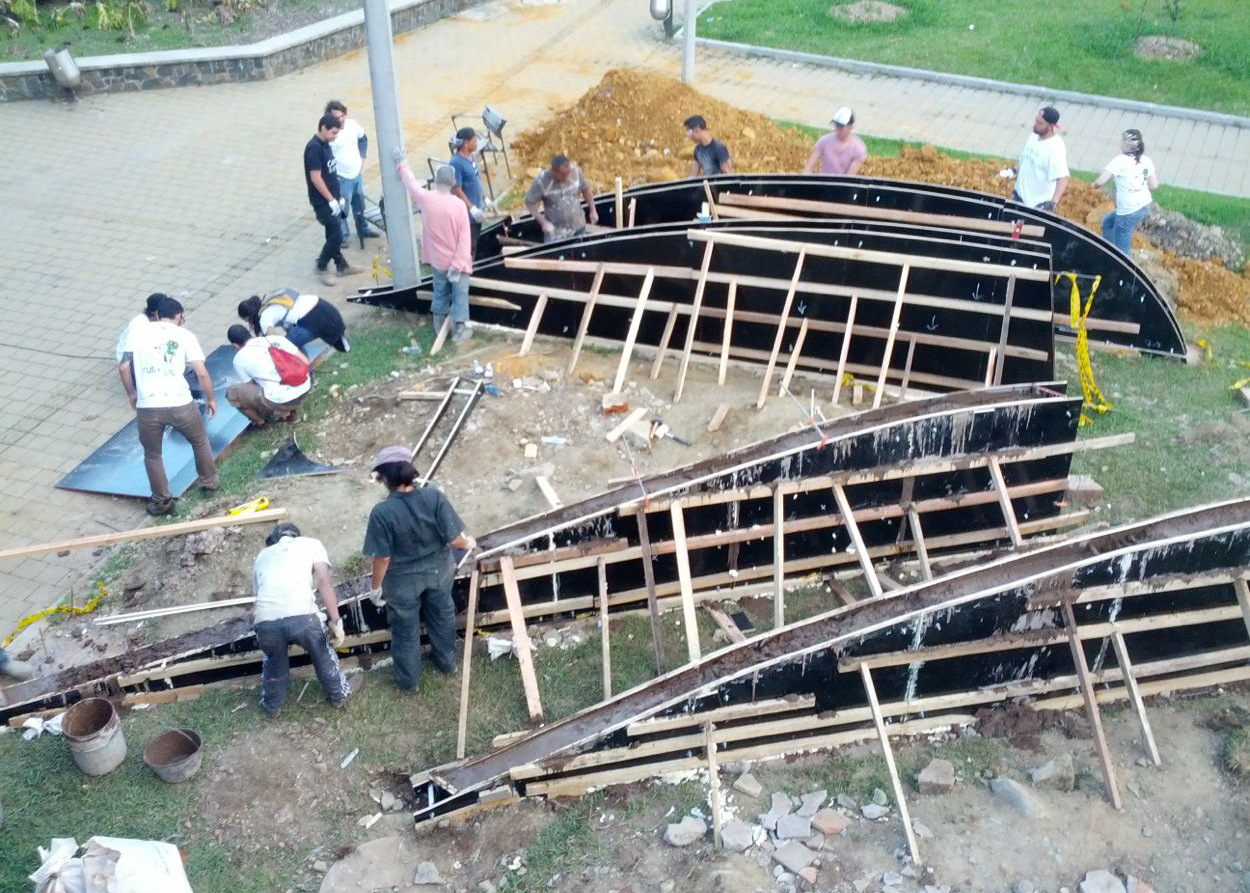 ---
LOCATION // Comuna Guayabal. Medellín, Colombia.

---
CLIENT // INSITU + RutaN + Medellín Innovation Festival

---
YEAR // 2013 + 2014

---
STATUS // Completed

---
PROGRAM // Public Space

---
FUNCTION // Multipurpose Parkour Landscape
---

An extremely dangerous plaza in a contested territory between local gangs, BMX riders and Parkour free runners; its situation at the base of a bridge connecting Medellín's most affluent Comuna (District) with one of its poorest is quickly diagnosed with the community as a place for remediation and opportunity for social consolidation. Working alongside a group of local mothers, it was identified that its gateway location to the district at the intersection of major transport arteries and the city's central waterway, Río de Medellín, provided the opportunity to create a new central gathering space to compliment the recently finished adjacent skatepark.

As with all skateparks, one particular faction was ostracized the most, in this case the Parkour free runners. Grassroots level diagnostics identifies the projects stakeholders and participants in the sequential design, fabrication and construction phases. A topographical landscape for picnicking and free running was defined as its brief, it's stakeholders the Parkour community and their mothers. The project was completed within 2 months and soon thereafter the mother's leveraged their informal custodial participation, with the city to build them kiosks adjacent to the project. Invigorating economic development into a successfully remediated plaza, an exemplary public space development and civic design model for the city.

This public space project was part of a city-wide civic design-build program entitled "INSITU: Comuna Innova" (Innovation District). The program was developed as the framework for the inaugural Medellin Innovation Festival, created with the goal of developing in parallel, 21 public-space projects throughout each of Medellin's 16 central districts (comunas) and 5 regional communities (corregimientos). Read the full project description of INSITU: Comuna Innova here.



COLLABORATORS
Sinuhe Acosta | James Brazil | Natalia Jaramillo | Fabio Lopez | Paula Gonzalez | Andrew Harvey | Frederik De Smedt | Rafael Machado | Alejandro Ochoa | Max Ripo | Juan Esteban Vallejo | Nicholas Waissbluth